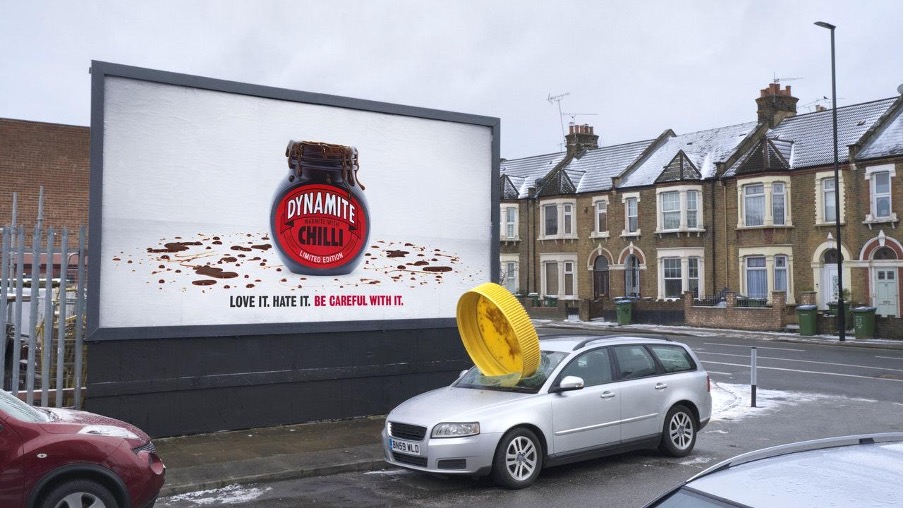 Adverts are everywhere in modern life, all around us in physical spaces and all over our digital environment.
This means that we see so many ads that we don't even pay attention to them. This phenomenon is called "ad blindness" and one example is when we visit a website and just ignore the advert banners. Adverts become invisible to us because we see them non-stop. Magic! Why do we even need pop-up blockers at all?
Advertisers, brands, and advertising agencies understand all this perfectly, so they know they need to surprise a future customer, at least for a moment, and catch their eye. So, here are a few examples of brand advertising that proved much more effective in reaching audiences than traditional marketing methods.
Real-time marketing
This type of marketing is good mainly because it's cheap, but you do need a social media channel and a brilliant idea that you arrive at quickly. It's about reacting in real-time to events that everyone is currently talking about.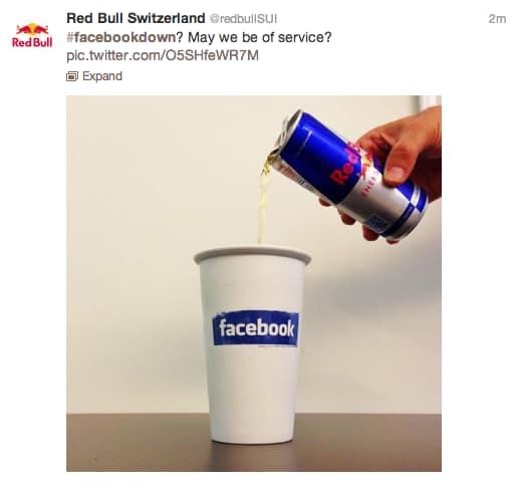 Remember the panic that happens whenever all Facebook services go down? It happened once in 2013 and soft-drink company Red Bull, which has the slogan "Red Bull gives you wings" used that opportunity for real-time marketing.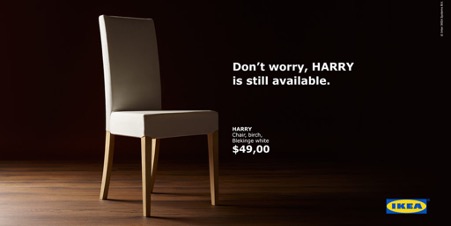 Furniture brand Ikea definitely knows how to react to real-time events. Here's an example from around the time of the Royal Wedding of Prince Harry and Meghan Markle.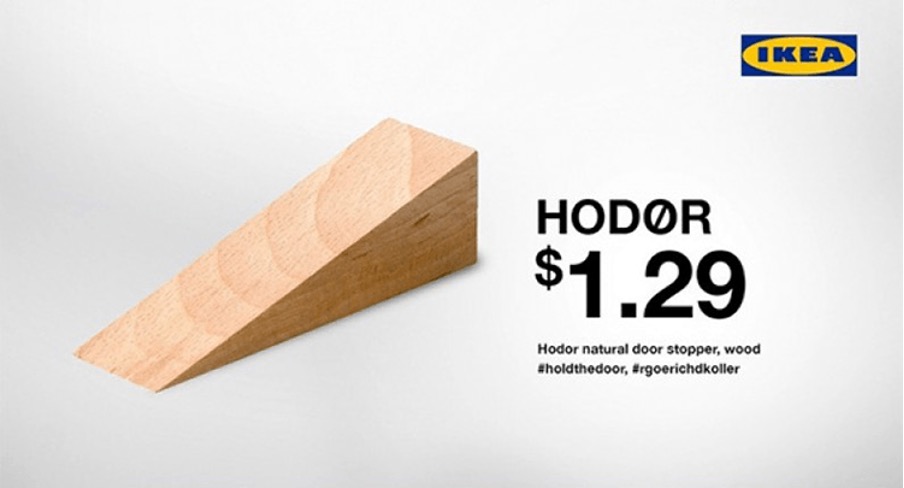 Let's go back to the time when Game of Thrones was the number one show in the world and everything on social media was all about it (if you haven't seen it, then this is a clever reference by Ikea to the series – trust me)
One of the hottest series in recent times was a South Korean programme called Squid Game, which was mentioned in many digital spaces, from TikTok to Facebook. Many brands tried to take advantage of the show's popularity, including Heineken, as you can see above.
Brand wars
This one is a little trickier because a brand war is most effective for huge brands with loyal customers. You can try the same thing as a smaller business, but it probably won't have a big impact. That's why the best examples are found among marketing giants.
The Burger Wars are predominantly between McDonald's and Burger King – two brands that like to tease each other very much. Here's an example relating to recruitment marketing at Burger King.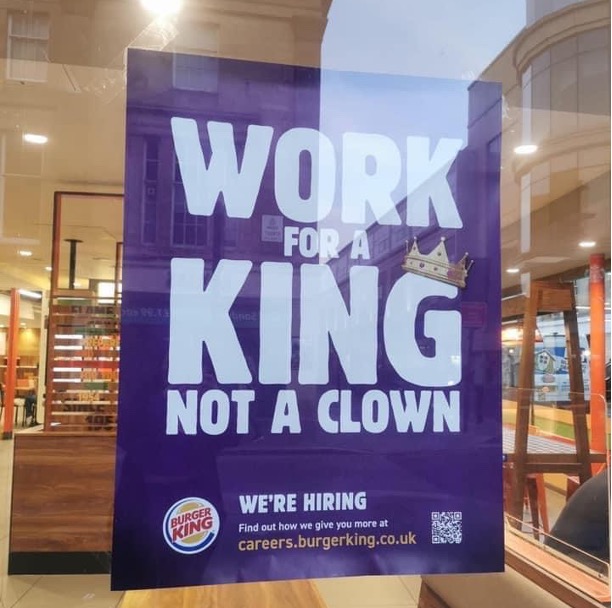 McDonald's has hit back a few times though, as seen through this poster when it was about to open a new restaurant in Brussels.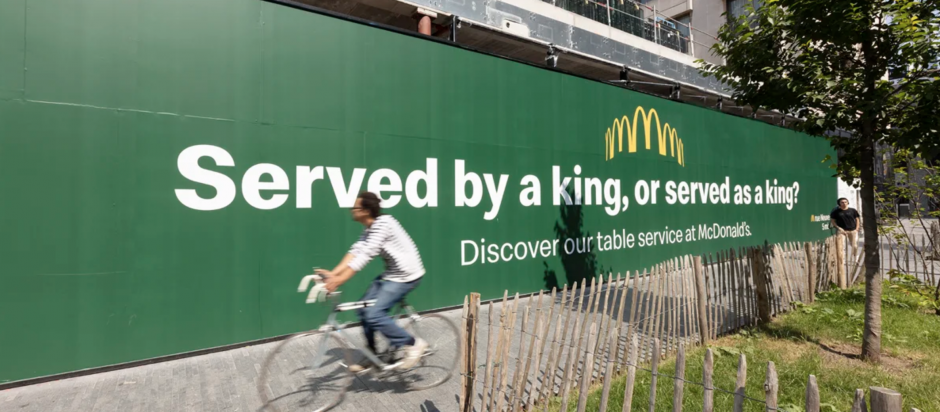 Here's an example from the world of car sales. BMW once congratulated Audi for winning an award – but their praise had something of an ulterior motive…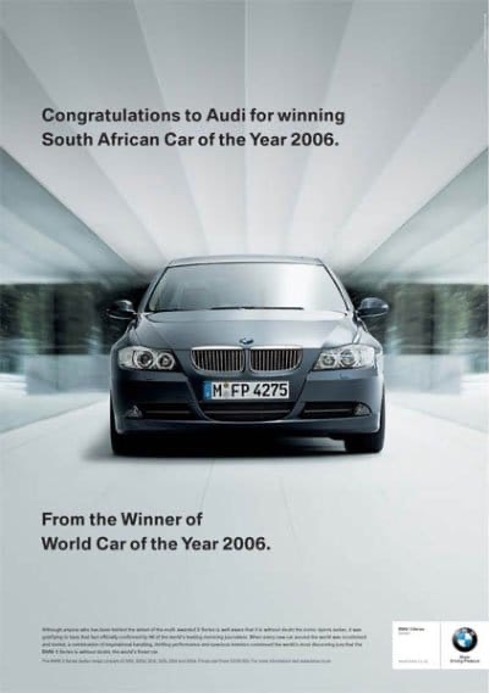 Audi took up the gauntlet and responded in a similar way. They too congratulated BMW but signed off their poster with a reminder of how successful they'd been in the Le Mans 24 hour car race.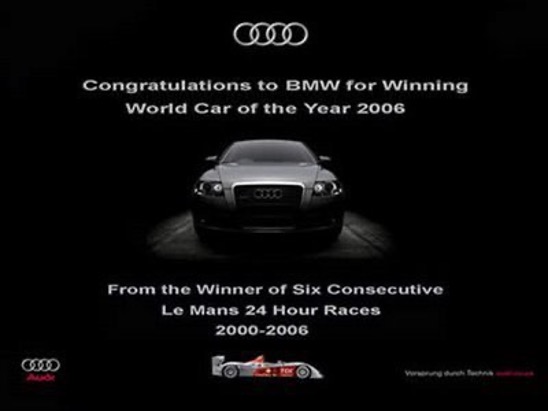 This wasn't the end of the battle, however. Another car manufacturer, Subaru, then got involved, by pointing out its engine had won an award for technical excellence.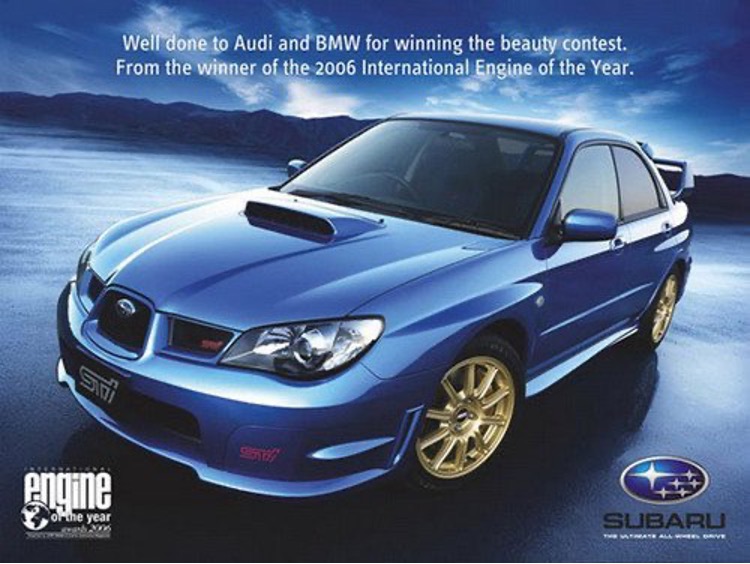 I actually have a favourite example of brand wars. I don't want to spoil your fun, so you have to see for yourself how DHL got other courier companies to promote it, and what the Trojan Horse had to do with it.
Ambient marketing
This is one of the best examples of out-of-the-box thinking. The idea here is to find an unusual place and use it for advertising. It absolutely doesn't mean that you cannot use a billboard or traditional advertising locations. But generally, the more unusual the setting, the greater the chance of attracting the viewer's attention.
Ambient marketing can not only help to reach the brand's target group but also attract interest from others. If the idea is exciting enough, even just a different form of the usual advertising can build brand awareness for different audiences. The following images illustrate the idea of this type of marketing.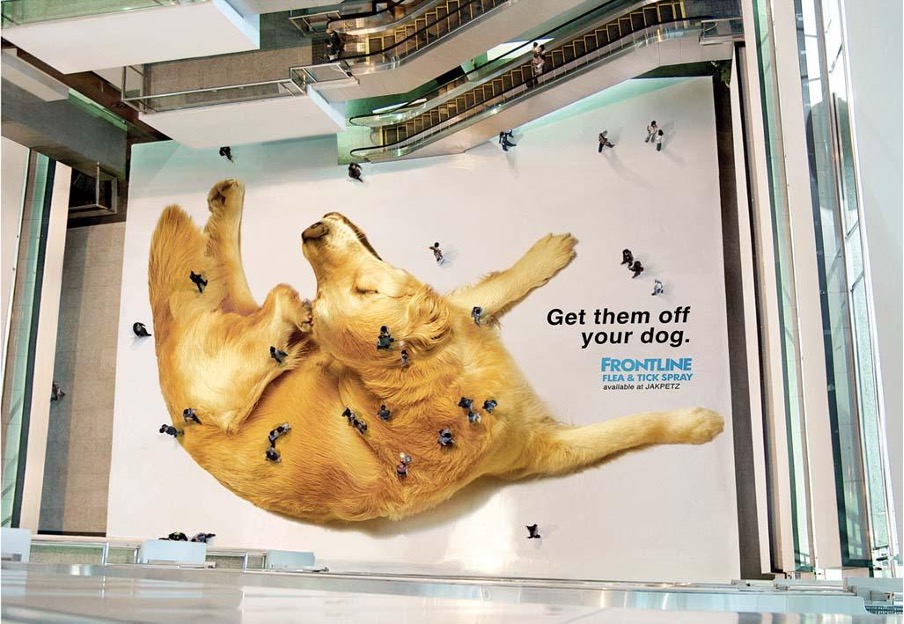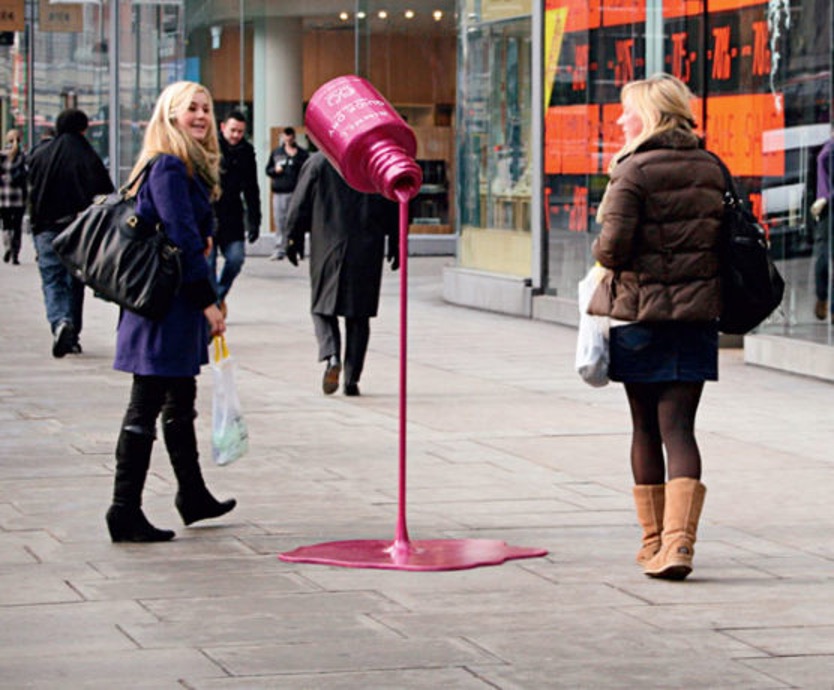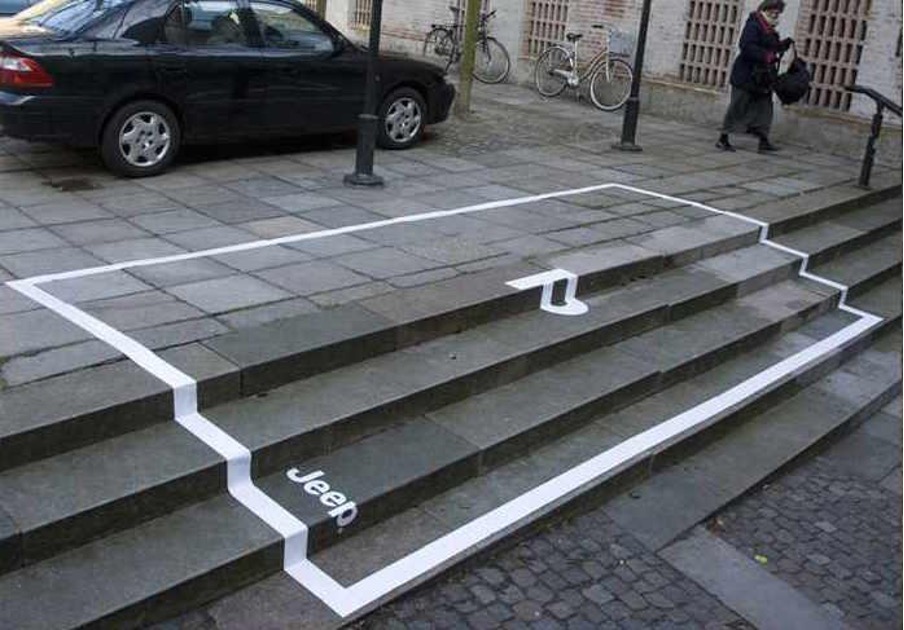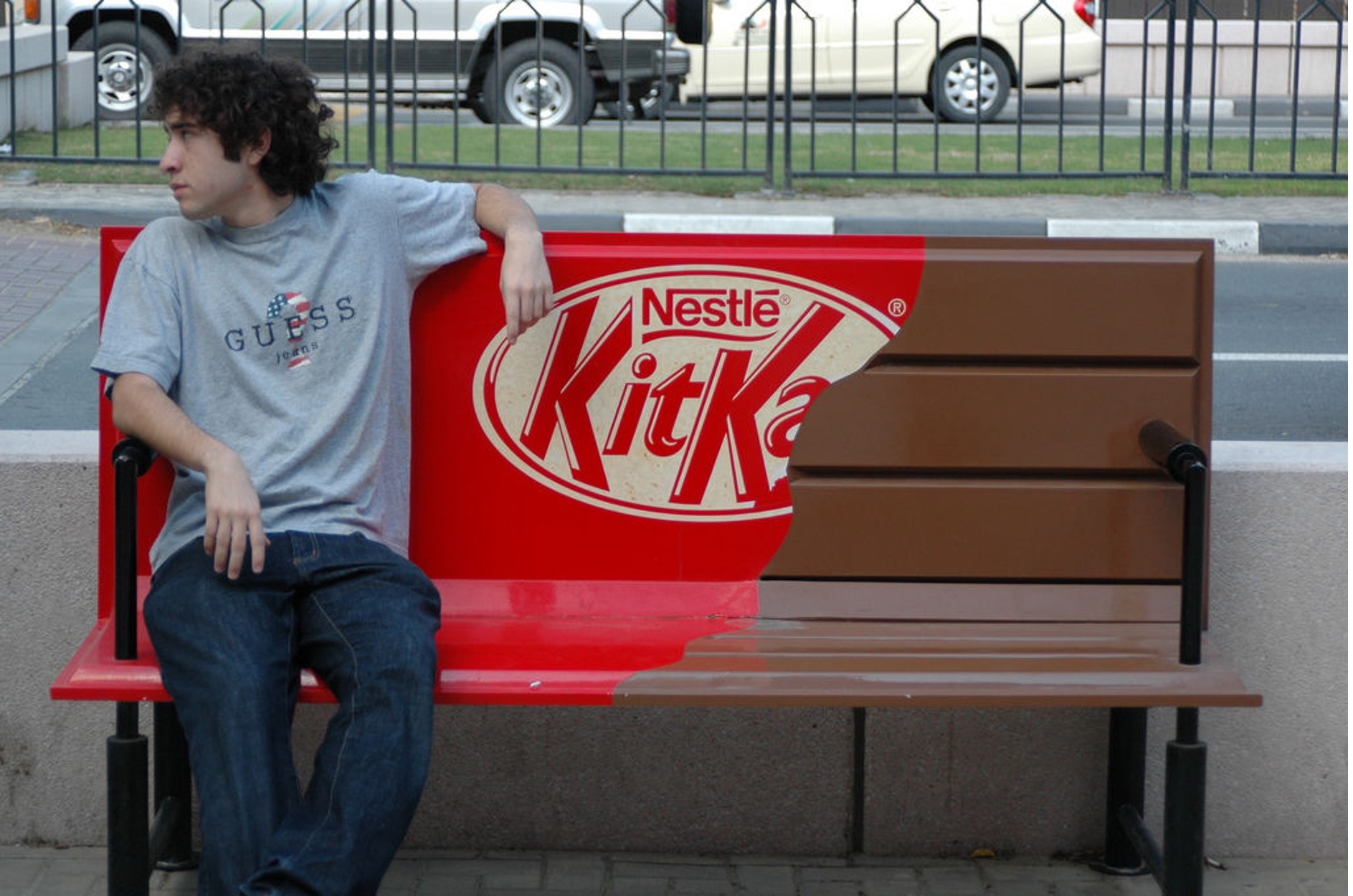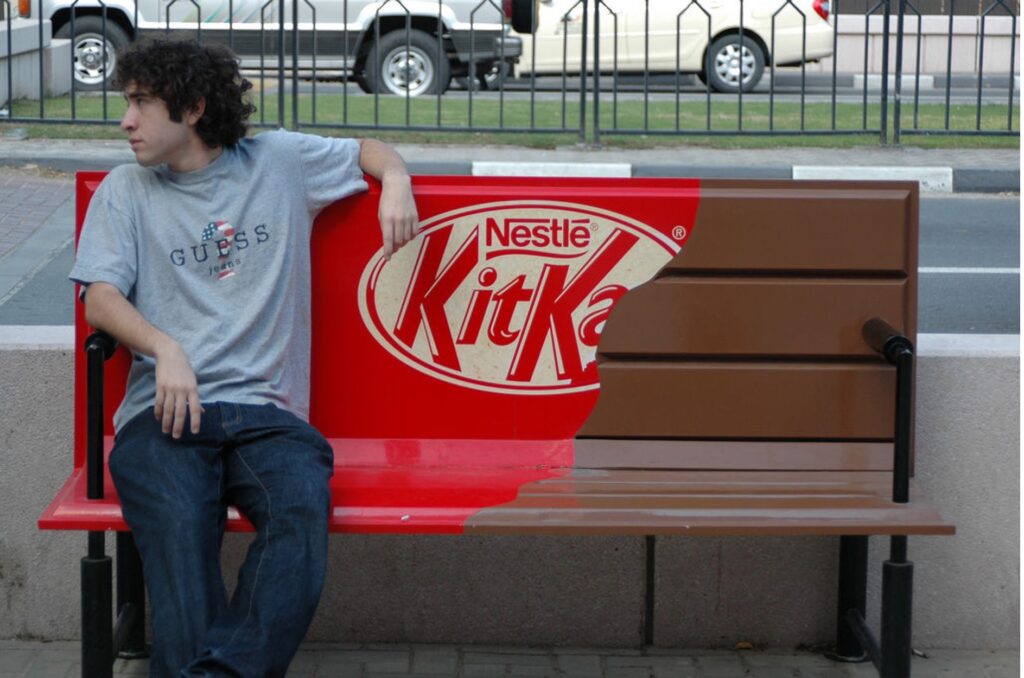 Given the amount of advertising around us at all times, it's hard to attract people's attention with your marketing campaign, but it is definitely possible.
Sometimes you don't even need a large budget – but you do need a brilliant idea and an adequate channel (mostly social media) to make your ad go viral. Good luck!