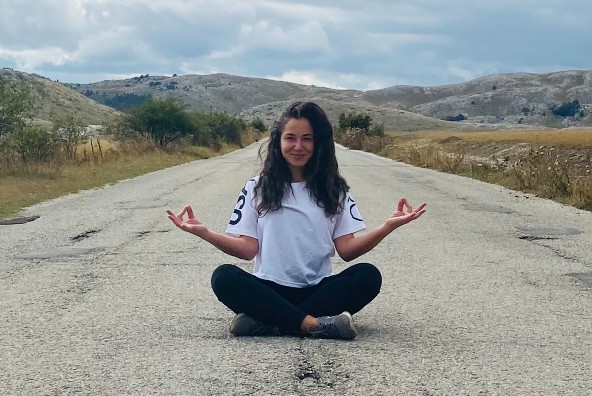 Mental health pressures are on the rise, especially for those who have had to adapt to a new way of working during the pandemic. So what are the best ways to give your mind and mood a boost? 
Many people are now working remotely, something that began as an emergency measure and then, for some, turned into a permanent state. This has changed our daily routine and affected all aspects of our lives; the way we function socially, mentally, and physically.
I felt challenged to keep myself motivated and excited about life, getting out of my own head while adjusting to this new kind of working routine. Feeling trapped in my home seven days a week, 24 hours a day meant life was becoming somewhat daunting. I really became aware of the importance of building a new schedule that I was happy with, one that made sense of this new way of living.
Here are a few things which helped to boost my mood and motivation.
Winter dips
Get out of your comfort zone with a swim in the cold winter sea. Sounds crazy right? But it has many health benefits and is becoming increasingly popular. It's been found that cold water swimming boosts your immune system, improves circulation, reduces stress and gives you a natural high, which ultimately elevates your mood.
It's made me more resilient and motivated while giving me a sense of accomplishment. Being able to get into the cold water has made me feel like I can overcome any challenge. It may sound like torture, but I promise it gets easier each time. Alternatively, you can always opt for a freezing cold shower at home – I guarantee that the benefits are just as powerful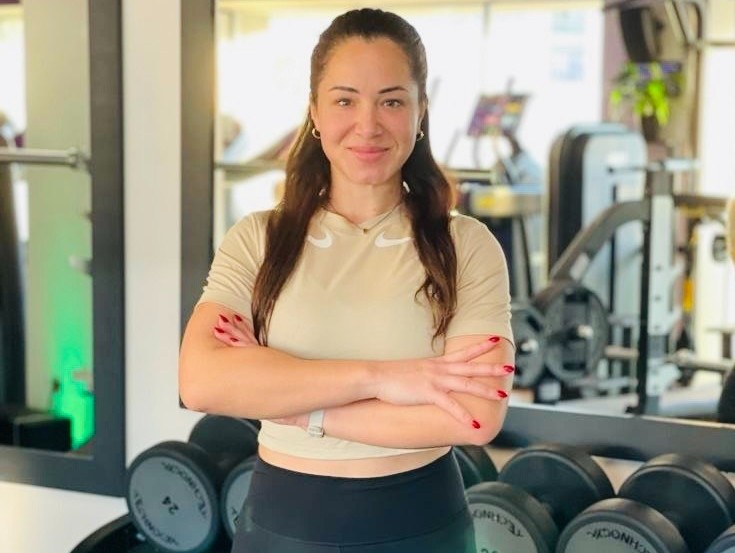 Running
Running isn't for everyone but there are ways to tailor it to your liking, whether in summer or in winter. You can just run at a pace that's comfortable for you. You may even opt for a run-walk interval; focusing on a few minutes of running followed by a period of walking. Many people say they run because it makes them feel better, in that their mood and mental energy levels are improved.
I took this further and joined a running team. During the lockdown period last year, I entered myself into a challenge that included completing daily runs at specific distances. This kept me focused and on track. I use a fitness tracker to keep track of my progress and try to improve with each run. Keeping track of your runs also creates a sense of accountability and will help you set goals, giving you something to work towards.
If you really want to take this to the next level, you can even sign up for a marathon. This will also give you a goal to work towards which will help keep you motivated. But just running regularly at your own pace is great, and good enough.
Personal Training
Get yourself a personal trainer! I found gym memberships by themselves are not as effective, and you can lose motivation quickly. Getting a trainer means you'll have more structure and a clear path leading to what your goal is and what you'd like to accomplish.
Furthermore, scheduling 1-on-1 sessions with a trainer makes it more difficult to cancel and back out of the session no matter how demotivated you might be feeling. Having a personal trainer gave me something to look forward to when I was working from home all week and helped maintain my self-discipline. Crucially, it also got me to leave the house for at least an hour.
Self-Development Books
This one is good for when you really can't get yourself to leave the house. We live such busy lives and spending a whole day staring at a screen can really take its toll on you. This made it difficult to stop my recurring thoughts.
Sitting still and skimming through pages of these kinds of books can help quiet the mind and divert your thinking to something other than your workday.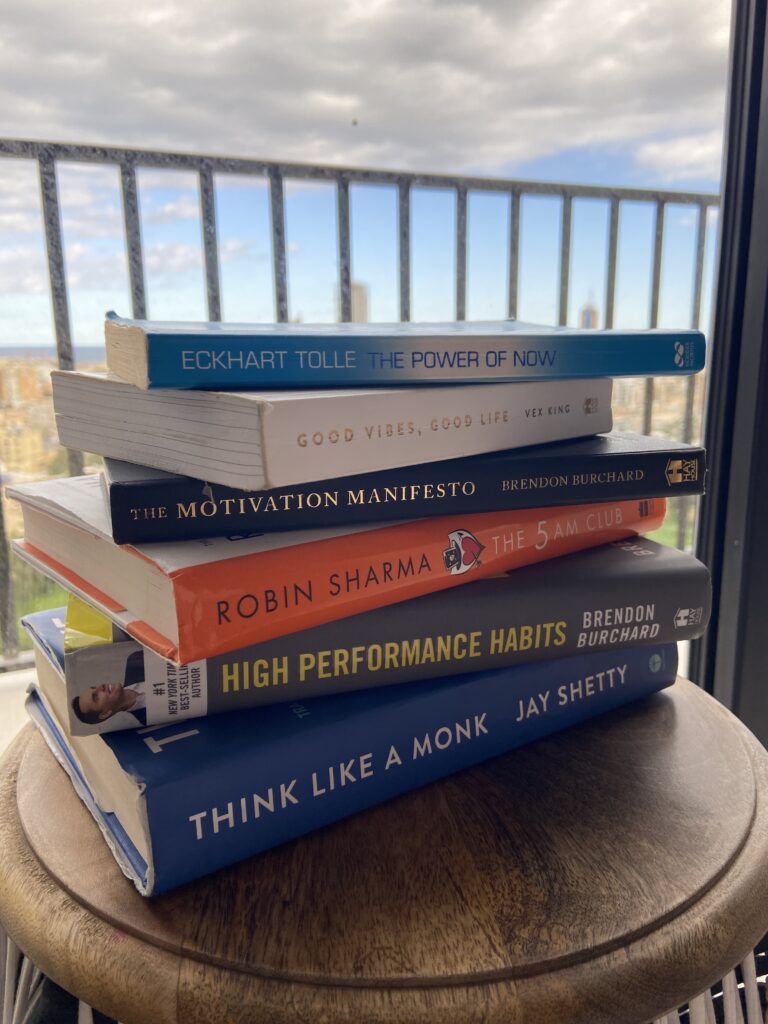 Diving into such books when feeling low on energy can really give you a boost to regain clarity and meaning. Doing this has helped me check in with myself and understand what's important to me, as well as organise my thoughts.
Some personal favourites that have helped:
The Power of Now – Eckhart Tolle
The Motivation Manifesto – Brendon Burchard
High Performance Habits – Brendon Burchard
The 5AM Club – Robin Sharma
Good Vibes Good Life – Vex King
Think like a Monk – Jay Shetty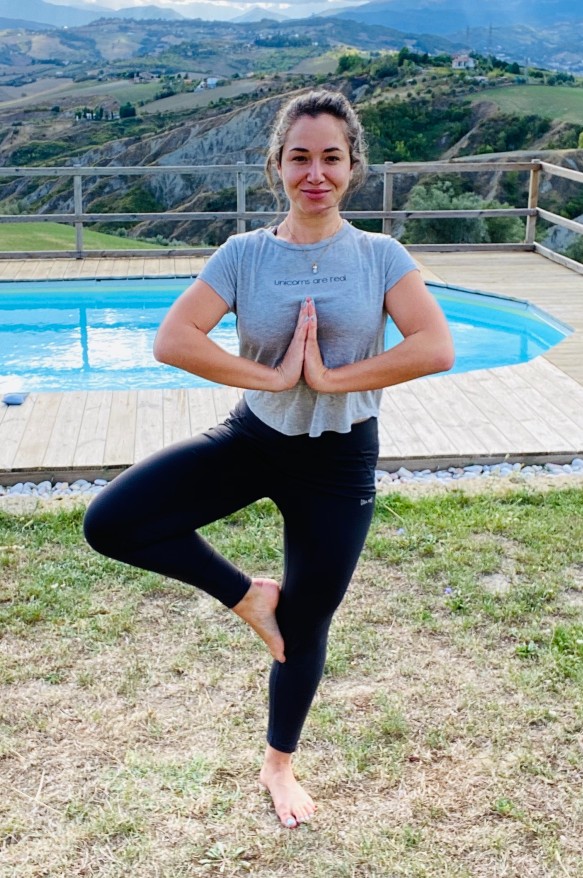 Retreats
If you really want to take it to the next level, go on a retreat of any sort that takes your interest. You'll get a break from mental stressors, and it will allow you to regroup your thoughts. Putting yourself in a new environment and getting a change of scenery is so important for our mental health, especially during a time when life has become so monotonous and anxiety-provoking.
I chose to attend a weeklong yoga and meditation retreat, during which time I adopted techniques to help me relax and find peace in the little things, even throughout a busy workday.
These are just a few ideas of how you can keep your mind and body in good shape. While the modern world always suggests that we should be spending our resources on material things, taking the time to invest in your mental and physical health is always the smartest move you can make.