Employees at Blexr are able to get on the road and work remotely for two weeks a year. One of our team recently went back to Romania and takes us through his working day, from his temporary offices of his family's kitchen table and the Bucegi Mountains.
Blexr's management team, headed by the co-founders, surprised everyone last Christmas when they revealed some enticing new benefits for 2018. These included healthier snacks in the office, an all-inclusive company trip abroad, a Kindle and book allowance for every employee, as well as travel and wellness packages. These benefits also included the ability to work remotely from anywhere in the world for two full weeks.
He was impressed by how much he could achieve, even being so far away from Blexr HQ in Malta. By lunchtime, he'd already finished all his tasks for the day. He'd had three Skype meetings, discussed future improvements to be made on specific projects, started creating a handbook for product owners, worked on some sketches, and gulped down two coffees – all from the comfort of his own home.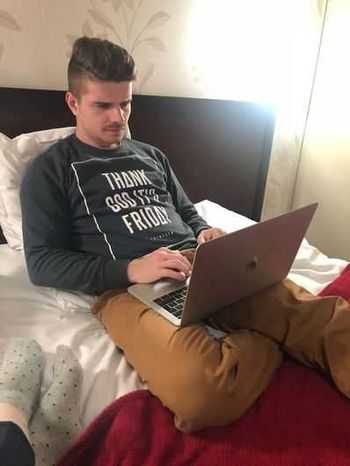 "At first, I was sceptical about the whole thing, but I quickly changed my mind. Being back home was very relaxing because I could be close to my family, particularly my mother who has health problems. It felt great to catch up with my father over a glass of his favourite whisky and talk about history – his favourite topic.
"I also got to see my girlfriend after several months apart – she doesn't live in Malta so spending time with her is a treat. She lives just 25km from my village, and on some days, I worked at her place between 9am and 7pm, then we'd jump in my car and head to my parents' house where we'd all enjoy the evening together.
"At the weekend, I took a day off and we visited the Bucegi Mountains. I tried my best to get all my work done before we left, but I couldn't resist dropping in on my daily stand-up meeting with my team on our way up to the mountains. I also had time to catch up on emails and some of my other daily tasks.
"I even bought a beautiful apartment with a large terrace in Bucharest. Now my girlfriend is busying herself browsing through catalogues and choosing all the furniture, decor and appliances. I couldn't be happier – it's a big step I'm taking in my personal life."
Blexr employs a large number of nationalities, some of whom have come a long way from home to work in Malta. We have a work-hard, play-hard attitude, and we want everyone to feel comfortable and enjoy themselves.
The great thing about this particular benefit is that employees get the chance to go home and visit their families without taking several days' leave. It also gives everyone the chance to travel and see the world as they work.
Constantin says he loves working for Blexr because "it's different compared with other companies, especially in their attitude towards employees. It's very refreshing".
Luckily for you, we're continuously growing and on the lookout for talented, hard-working individuals to fill the seats in our funky new office, and we have plenty of open positions.
Check out our careers page to see if you've found your next career move – and you too could end up hitting the road while you work.